The electric towel radiator is an essential accessory in a modern bathroom. There are many models of any dimensions and shapes. However, the basic models are between 90 and 120 cm high and may be difficult to integrate into a small bathroom. It is of course possible to buy smaller one but the price quickly becomes prohibitive.

Design of electric towel radiators or central heating one made of steel allows a DIYer to adjust the height.
However this address only to people who can make a good welding (ARC, MIG, TIG or oxy-gas). 

Note: if you use a brand new radiator forthis operation you will certainly loss the warranty, so it can be useful to test that heating is correct before modification.

This method can also be used for central heating radiator.
 
Materials needed:
  • metal saw
  • welder
  • angle grinder
  • paint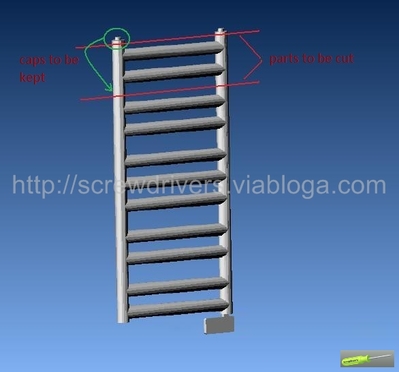 The first step is to drain the radiator and remove the electrical resistor in order to determine the heigth you can cut. (height reduction shall be limited to the minimum to maintain the efficiency of the radiator and prevent resistor to be oversized).

Then cut the two ends at about 1cm to keep for later the thread and caps. You can now cut the radiator to the desired length. Cuts should be clean and well perpendicular to the tube axis.
The most delicate operation is to weld back the caps on the radiator with no leak!. To keep original design you will have to grind the welds. If you have also cut the part with fitting for attachment you will also have to weld them to the top of the radiator.

To finish make paint touch-up on welds and fill the radiator with either the original liquid or car coolant.