For ratchet wrench normally each size of screw needs a dedicated socket. But since few years a new type of universal socket is available on the market, it can automatically adjust to all standard sizes but also non standard bolts from M4 to M12 (1/4 to 3/4 inch) witch correponds from 7 to 19 mm wide head.

Two different types of internal mechanism is available :
  - one with several splinned washers fitted on springs
  - the other with many needles with hexagonal shape which are independantly spring loaded (as shown on the picture)
Depending of size and shape of screw head the needles (or washers) retracts in socket in order to adapt to the head. 
System with needle seems to us to be more versatile especially for non standard sizes so it should certainly be prefered.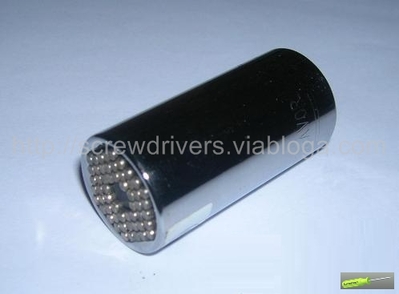 Many advantages can be found for this socket, mains are :
  - only one tool fits most of screws you will find in your home, tools or your car
  - ensure you to have correct size each times
  - save time for assemblies showing different sizes of screw, rending void necessity to replace socket at each screw
  - be usefull for foreign standard or old non standardized screws
  - allow loosening of damaged head screw where normal socked has no more grip

The only limits will be use on some screws with inverted profile as Allen screws and also due to socket size screws with small access.